My husband so loves his morning cup of joe. So I made him a cup cozy using a piece of leather, that wraps around his favorite to go mug and snaps closed. I used the Love You a Latte cartridge and my Cricut to cut the "Cup O' Joe" mini sign out of yellow vinyl and coffee beans cut out of brown vinyl. Mmmmm . . . I can smell the roasted beans.
With the left over scraps of vinyl I created cards of a similar design.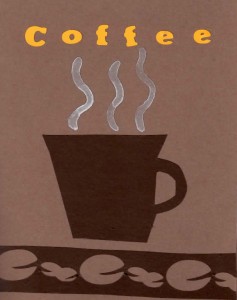 Happy crafting xoxo Cyndi aka Lovely Lula
Follow me on Twitter I am Lab5.