It's Black Friday. Is your refrigerator stuffed with Thanksgiving leftovers? Why do we prepare so much for one meal? Now what do we do with all the left overs? Let's get to sharing ideas because really a delicious turkey deserves a better after life then being slapped between two pieces of wonder bread. Tis the season for soup I say. I make a killer chicken noodle soup and so this year I am going to alter my recipe and make it with all of the left over turkey. If the batch it too big I'll freeze some and pull it out mid winter to enjoy on a day when dinner prep is just too much. Here is my recipe normally made with chicken but altered for a post Thanksgiving change. Enjoy!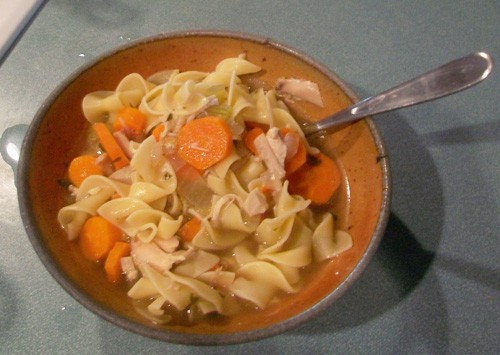 Ingredients:
Turkey
2 lbs Carrots
1 Celery bunch
2 Yellow Onions
1 Bunch whole leaf Parsley
3 Bay leaves
1 tsp marjoram
1 Garlic bulb (peeled)
Salt and pepper to taste
Olive Oil
12 oz egg noodles (I use Gluten Free)
Directions For Broth:
Strip all of the meat off of the carcass.
Cut up 1 pound of carrots, one onion and half of a celery bunch.
Place carcass, cut carrots, onion, celery, bay leaves, half of the garlic bulb and ½ of the parsley bunch into a large pot cover with water and bring to a boil.
Reduce to a simmer and allow to cook in the pot for one hour.
Strain broth into a bowl, discard the carcass, vegetables and bay leaves.
Directions For Soup:
Cut up 1 pound of carrots, one onion and half of a celery bunch.
In a stock pot place 1 to 2 tablespoons of olive oil.
Add freshly cut vegetables cook in the oil until the onions are clear (5 to 7 min.)
Add broth, turkey, marjoram, salt and pepper and other half of parsley bunch.
Simmer for 30 minutes
Cook noodles in a separate pan
Dish noodles into a bowl and pour soup over top. Serve immediately.
NOTE: This recipe will make a lot of soup so serve some and then freeze the rest in small freezer bags to pull out when the mood strikes. It will keep in the freezer for 6 months.