The Hunger Games Unofficial Cookbook is now available. After seeing this I knew I needed to whip up something to honor the opening of the movie tonight at midnight. I haven't bought the cookbook but having read all the books and having tickets in hand to see the midnight showing I was inspired to make a Hunger Games snack. So I came up with Katniss Herb Spread with Peeta Bread, that makes me smile every time I say it!
Here is the snack: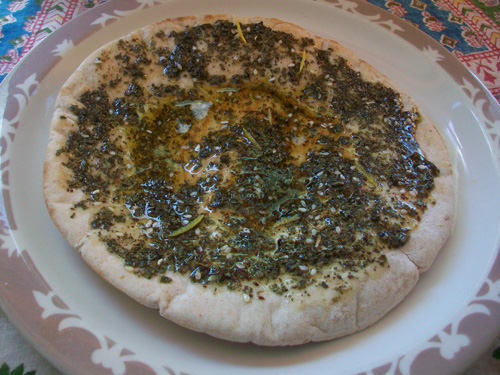 Here is the recipe:
Katniss Herb Spread with Peeta Bread
Ingredients:
2 teaspoons oregano
2 teaspoons basil
2 tablespoons ground thyme
1 teaspoon whole thyme
2 teaspoons savory
2 teaspoons ground marjoram
1/2 teaspoons whole dry marjoram
(Any green herbs or spices that are on their last legs)
1-2 tablespoons ground sumac
1/4-1/2 cup unhulled, toasted sesame seeds, ground
1 1/2 teaspoons salt (or to taste)
1 tablespoon dried ground lemon peel or zest of two lemons
Preparation:
1. Grab a medium to large bowl. Dump in all of your dried green herbs and spices that have reached their life cycle. The varied amounts are fine. Just mix them all together.
2. Grab a cookie sheet, cover it with sesame seeds, toast them in the over on 350 degrees until lightly brown.
3. Remove from oven, cool the crush sesame seeds with a pestle in a small bowl.
4. Combine with green herbs.
5. Add in olive oil, enough to create a paste out of the herbs. It shouldn't be dry.
6. Sprinkle on a tsp of sumac if you  have some on hand
7. Add lemon zest to bowl
8.Spread on pita or 'Peeta' bread and bake or broil until heated through (350 degrees for 6 to 9 minutes)
Or download it here: Katniss Herb Spread with Peeta Bread