Bazzill Basics Paper is offering an opportunity for crafters and card makers – they are hosting a Card Swap. Read on for details:
Bazzill Card Swap & Starter Kit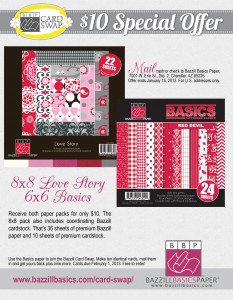 Bazzill wants everyone to discover the love of card making – to enjoy making something and giving it away. So Bazzill created Card Swap, a fun activity that invites card makers to register to join (it's FREE), create 10 of the same card, send them into Bazzill and get their own card and nine others back from people all over the United States. The swap always have a theme and a specific paper to include, but the variety of cards that arrive are unbelievable. People that participate continue joining each swap and new people join in every time. To encourage participation, we have created this kit (shipping ends 1/15/13).
Bazzill Card Swap Starter Kit – ($20 value)
Send $10 to cover postage and handling and receive:
22-sheets of 8×8 Bazzill Love Story patterned paper (includes ten sheets of cardstock)
24-sheets of 6×6 Bazzill Basics Red Devil patterned paper.
Use the Basics Red Devil paper to make ten cards for Bazzill's Card Swap. Mail in your creations and get your own card and nine other cards from swappers. For more info and to register to play, visit: http://swaps.bazzillbasics.com/ 
Paper offer available through January 15, 2012. Allow 2 to 3 weeks for shipping.
Mail to: Card Swap Starter Kit, Bazzill Basics Paper, 7001 W. Erie St., Ste. 2, Chandler, AZ 85226. U.S. addresses only.