This is my take on a fall cornucopia. I filled mine with Halloween candy and this will be the grab "bag" for trick-or-treaters. I love candy corns as visual icon and since orange is my favorite color I just can help but love these little treats.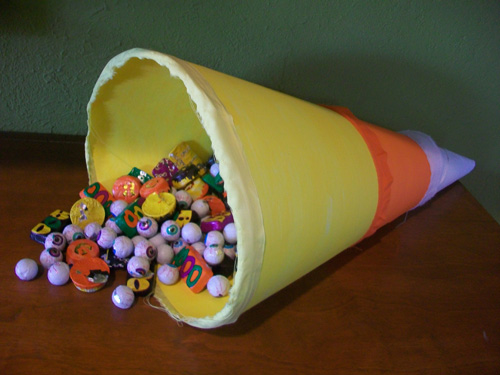 Here is how to make one of your own:
1. Start with a large piece of white poster board. Cut it into a baseball field pattern. Round at the outer edge and instead of coming to a point, cut it flat at the base.
2. Roll it in to a cone shape.
3. Use binder clips to hold it into the shape. Lift edges and glue with tacky glue. Keep binder clips in place until it is fully dry.
4. Once dry, divide it into three sections. Use craft paint and paint the base white, the middle orange and the outer edge yellow. repeat this for both the inside and outside. Allow to dry completely by standing up on the outer edge.
5. Using broad cloth, tear a strip of white, orange and yellow about 1 inch wide and long enough to go around your candycopia. Glue down with tacky glue.
6. If you have too much room and not enough candy to fill the whole thing, stuff the bottom with orange tissue paper.
7. Add in candy of choice and enjoy!